WHY WE'VE ADDED A WORKFLOW MANAGER TO DCDM (Data Compliance & Dependency Manager)
21st March, 2018

Workflow Manager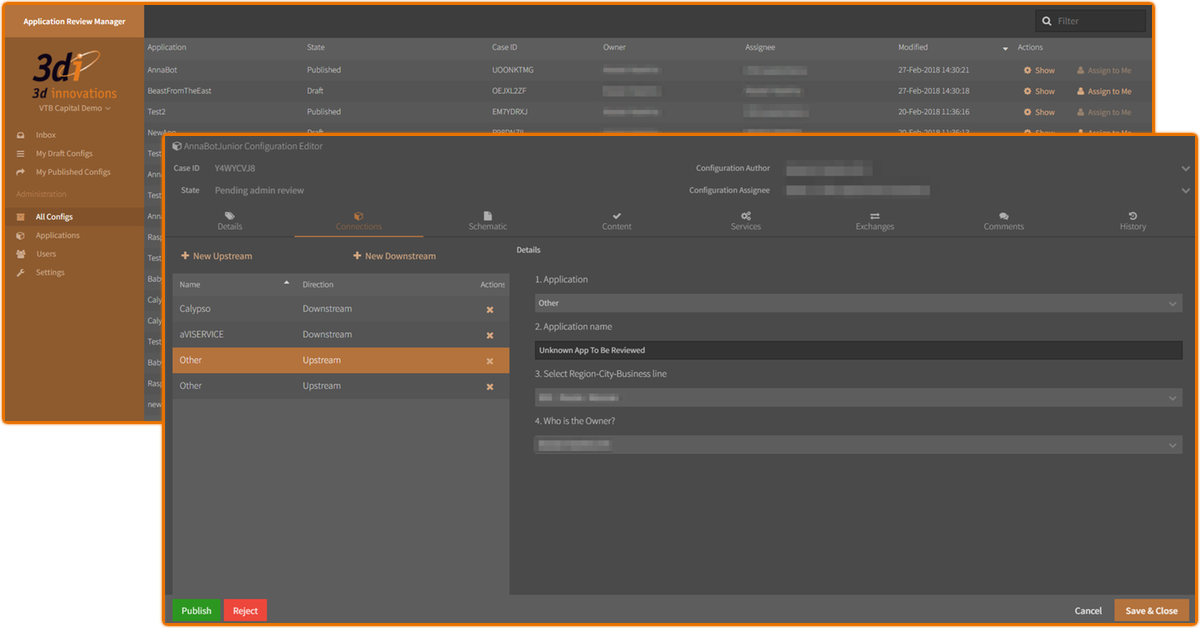 3di's Data Compliance platform DCDM has had an upgrade in the form of ARM (Application Review Manager), a workflow and application inventory manager which provides an alternative and integrated approach to complement DCDM's classic framework for monitoring data and apps.
As a data management consultancy, we need to be in a position to manage project data that enables us to get through at least the basics of the collate -> organise -> analyse -> report process.
From our start in 2002 we found the limitations of market data inventories, enterprise data hubs and the ubiquitous Excel such that we created DCDM – initially to house user profiles, affiliated Excel spreadsheets and application watch-lists etc. Since industrialising the tool back in 2012 to stand as a product in its own right (filling what we perceive as a gap left between market data inventories and enterprise data hubs), DCDM has operated under the ideology that applications and data go together when accessing appropriate licensing. We also assume that you have access to survey both – as we do when consulting – and so can manage both…to a degree. Of course, this simply isn't true for most operating market data management functions, where the scale and sophistication of applications and data usage is simply too vast and too pervasive to singularly monitor.
Most Enterprise and Market Data groups are working toward data governance and licensing compliance through small teams of experts that liaise with business and application owners, data delivery infra-structure (real-time or otherwise) and other proxy touch points in order to build up an effective picture of application data use in the enterprise. That's where ARM comes in; replacing Email, Change Management apps, post-it notes and other gadgets – to professionally facilitate those application management relationships, build an application inventory, link with DACS and exploit the data lineage, service descriptions and reporting mechanisms of DCDM as and where appropriate in as painless a way possible through organic growth and self-discovery.
Getting lots of positive interaction with clients and prospects alike when demonstrating ARM and hoping to engage with more of you Data Compliance Officers to review as soon as possible.
John Ikel (jikel@3di-ltd.com) – Head of Data Compliance & Licensing, 3d innovations